Recycling, Concrete Crushing, and Becoming a Greener Company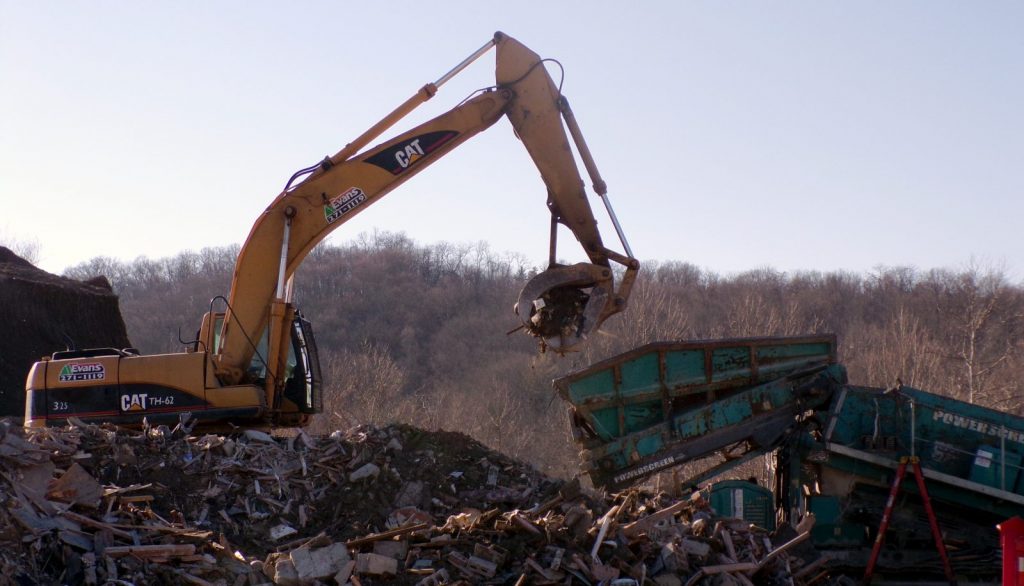 Here at Evans, we pride ourselves on being good stewards of Planet Earth so that future generations can enjoy it too. Our commitment to making the world a greener place dates back to our humble beginnings when we started recycling yard waste, which helps to keep organic matter out of landfills. Now, Evans recycles everything from yard waste to construction and demolition debris. For example, many of our logs end up in your fine furniture and firewood to heat homes. What remains is turned into beautiful hardwood mulch, which reduces our carbon footprint and yours alike. We even recycle concrete. In fact, over 90% of the material we remove from job sites is recycled back into future products so you can rest assured that when you hire Evans we are doing our part to reduce waste. Recently, we have invested in cleaner technology and more environmentally-friendly machines and equipment that use less fuel and consume less electricity. Even our headquarters building is powered in part by solar panels. We are proud to have been a part of solar field projects in our region and are always looking for ways to help create renewable energy and reduce waste. Evans will continue to invest in reusable and recyclable systems and strive to create a more sustainable future. Please join us in our mission!
Who would have thought that concrete could be recycled? At Evans, we are always looking for new ways to recycle and reuse materials. We have invested in state-of-the-art machinery that removes rebar, trash, wood, and other undesirable materials from concrete, and then crushes and screens the concrete into different sizes that can be used as a cost-effective alternative to gravel and new concrete. The benefits of crushing concrete include conserving natural resources as compared to mining (recycling one ton of cement can save 1,360 gallons of water), reducing pollution from transport to landfills and dumps, reduces the costs of transporting materials, saving landfill space – all while creating jobs.
Evans is proud to have been an early adopter of solar energy – even before it was popular! The roof of our headquarters building features a full solar array, which helps to power our entire team. We also installed solar panels on one of our satellite locations. This reduced our utility bills, and more importantly, reduced our carbon footprint. Recently, Evans has been fortunate to assist in the installation of one of Ohio's first large-scale solar farms, situated on more than 2,500 acres in Brown County. As part of this project, Evans planted over 5,000 trees and shrubs to beautify the neighborhood. We even recycled thousands of pallets from the project that were used to transport the panels. Evans could not be more proud to have played a role in bringing clean, sustainable power to tens of thousands in southern Ohio, as well as jobs in renewable energy.